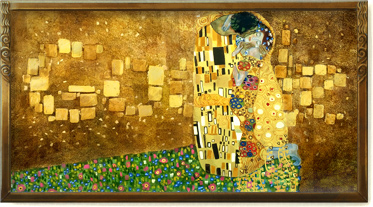 This is todays Google Picture celebrating Gustavs Klimt's 150th Birthday!
Entitled 'the kiss'. I have just seen (only a few days ago) a superb adaption of this picture done in embroidery at the
Fo Guang Shan Buddhist Temple
2 Harakeke Street
(Cnr Harakeke St & Riccarton Rd)
Riccarton
CHRISTCHURCH
whilst there you can view the National Exhibition of New Zealand Embroidery on until the end of July. Well worth a look!
In the next couple of days I will be posting some photos of works in progress by the ladies that participated in my class at the conference.